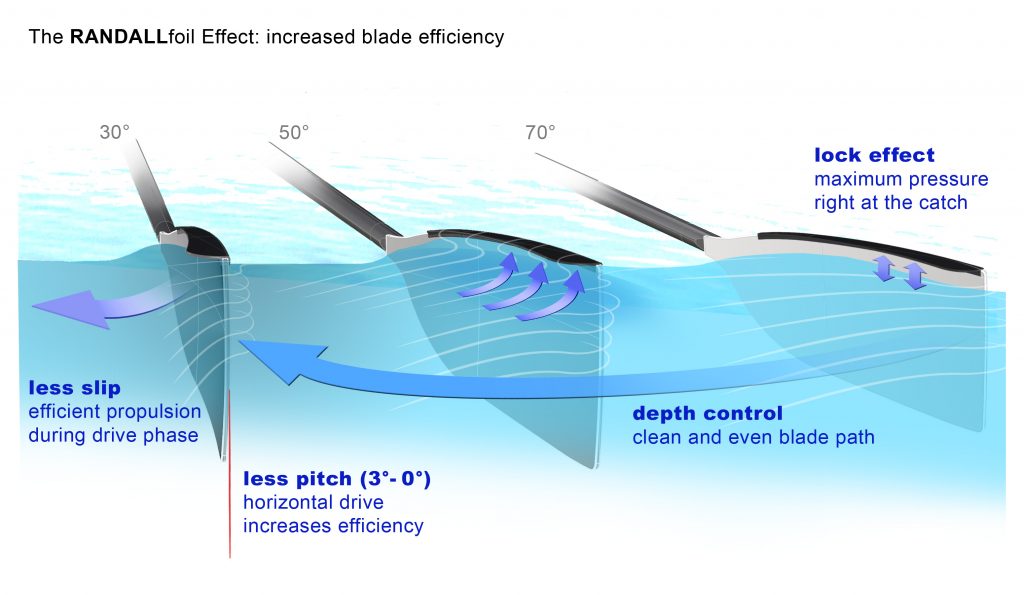 Basic facts:
Randallfoils reduce the slip at the catch to a minimum. 
Their overall concept is to help stabilize the blades at the catch quicker. Basically, they prevent the oar from going to deep during the first part of the drive, which makes it possible to "anchor" the blade at an earlier stage of the stroke. The result is a quicker connection at the catch and therfore a higher overall boat speed.
Changing from ordinary blades to Randallfoils is comparable to changing from macon blades to big blades.
Randallfoils FAQ answered by Aram:
Q: Will they make me faster?
A: If you follow a few rules, they most probably will. 

Rule 1: Set the pitch on your blade anywhere from 0 to 3 degrees. I personally prefer 0 degrees as it gives me more grip in the water.

Rule 2: Consider raising your gates by 1 – 3 washers.

Rule 3: Shorten your outboard to get softer gearing. If there is no slip on your blade, you do not need all that stiff gearing anymore. 

Rule 4: Follow the fitting instructions carefully. 
You need PU resin, a decent filler (such as cotton powder flakes) and hardener. Depending on the hardener you use, curing time is about 12 hours (even though it says 1 hour only)
Here are Ian Randall's Fitting and pitching instructions

Rule 4: Do not smack the catch. Build up your stroke over the middle part of the drive. 

Technique and Pitching

More importantly: you have to get used to the foils. I have worked with Martino Goretti (who was the first one to use Randallfoils at the world championships 2019 and become world champion, having the fastest times in all races througout the regatta) and other athletes on boat set-up and on technique so that they can reap max benefit.

Here is a quick summary of what you should do:

# Soften the catch. Do not smack the blades into the water hard and too deep, but aim to accelerate the boat over the middle drive. Long leg drive pays off. Remember: there is very, very little slip on your blade!

# Make the gearing softer( Example: instead of 160 / 288 / 88 you should try 160cm spread / 286cm total oar length / 88cm inboard

# Pitch the blade anywhere between 0 and 3 degrees. 4 degrees will not work . Tim Mclaren discovered that even some carbon riggers bend in larger team boats. Therefore 0° initial pitch will lead to apprx 2° or 3° during the middle drive.

# Raise the gates by 1 or 2 washers (only optional)

I will offer Randallfoils fitting, pitching and more importantly: technique training in Vienna, aimed at teams to prepare for next season. It is not long before the Olympic games and teams who use Randallfoils will have an advantage.

Some people ask about rough water conditions and head wind: The amount of speed increase you get by the Randallfoils is dramatically more than the potential head wind resistance that may or may not be measurable. The feedback we are getting is such that Randallfoils are said to be more effective the rougher the water gets. Have a look at Ian Randall's blog. Randallfoils are even used in surf boat competitions.

The London based scientist Dr. Kleshnev has conducted tests and concluded increased boat speeds of up to 5%.
# One set of Randallfoils includes one foil for the left and one foil for the right oar.
# The same Randallfoils fit on sculling oars and sweep oars, and fit almost all types of blades. 
# Which blade types work:
Croker standard and arrow: super easy
Empacher standard and thin: super easy
C2 standard: use a bit of force, but no problem
C2 with Vortex edge: only permanent mounting because of the down bend towards the outer edge of the blade. You can heat the Randallfoils gently and apply force, they will not break.
Braca: super easy (except their latest "thick blade" oars)
For testing, the foils can be fitted temporarily with double sided adhesive, for permanent mounting Ian Randall (the Inventor) recommends PU Resin.
Interesting documents about the Randall Foils
The package contains only Randallfoils. The fitting and pitching incstructions are only available online, as their are consistently updated.